On-Demand Digital Printing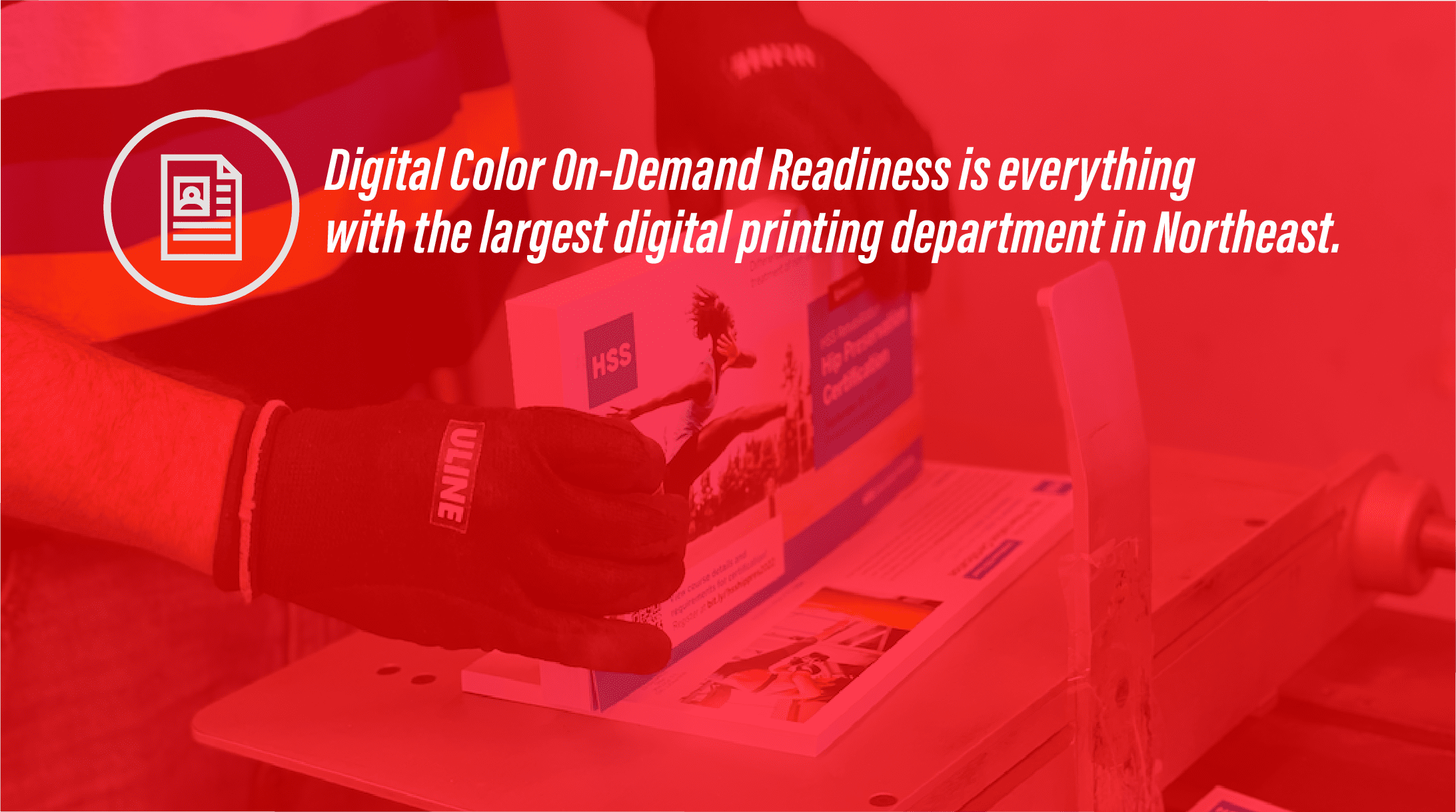 Experience the Speed and Quality of On-Demand Digital Printing
If you need digital printing in a hurry, but don't have the budget to match, LandmarkPrint is your go-to source. Our cutting-edge digital printing department in the Northeast is designed to provide you with high-quality prints in record time.
A Business Built on On-Demand Solutions
With over 20 years of experience in the printing industry, LandmarkPrint has perfected the art of on-demand printing. Our comprehensive process gives you access to the best practices and technologies available, allowing you to get the job done quickly and affordably.
On-Demand Printing at its Finest
Our sophisticated Kodak equipment produces top-notch, full-color output in both variable and non-variable formats. Even with short runs, you'll be amazed at how our digital PMS matching and spot coatings deliver stunning results. And for black and white prints, our professional-grade Xerox printers can produce millions of pages a month with the same precision and clarity.
Get the printing Solutions You Need
Don't settle for anything less than perfection.
Contact LandmarkPrint today to learn more about our on-demand printing solutions and see how we can help your business reach its goals.
Why On-Demand Digital Printing
Fast and efficient on-demand printing services
High-quality output with digital PMS matching and spot coatings
Professional-grade Xerox printers for black and white prints
A comprehensive process designed for ideal results
Affordable prices to fit any budget
Experienced and knowledgeable staff
24/7 service for quick turnaround times
Landmark's On-Demand Printing Technologies
On Demand-Production Digital Color Printing
Our top-of-line on-demand printing equipment from Kodak delivers the high-speed, variable, or non-variable full-color output with superb digital PMS matches and even spot coatings.
We produce high-quality printing results quickly.
Don't compromise color quality, even in the short run. Compare the results to offset quality—it's hard to tell the difference until you evaluate the affordability..
On Demand- Black / White Digital Printing
Our fleet of professional, commercial-grade Xerox printers produces millions of pages per month. Look to LandmarkPrint to deliver crisp, clean, professional black & white printed documents in a hurry. We're equipped for fast turnaround at affordable prices.
Kodak NexPress, HP Indigo, Xerox Docutech